Why Do Dogs Hump And What Can You Do?
There are several reason why dogs hump. This behavior is not only exhibited by male dogs but can also be exhibited by neutered dogs and some females.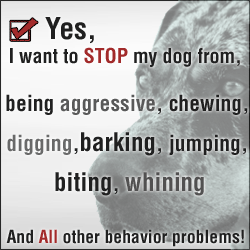 The most obvious cause is sexual, dogs hump when they mate, although a lot of the humping seen between puppies and other dogs is play. This behavior usually starts around the time that dogs start to mature. Testosterone which is present in both sexes plays a part but there are also other reasons.
Is neutering the answer?
Neutering an intact male will reduce your dogs humping behavior in about 60% of cases. The effect of neutering may not been seen straight away as there is also an element of learned behavior/ habit. It can take several  months after the procedure to see how effective it has been in reducing this behavior.
If you have no plans to use your dog for breeding now or in the future neutering is probably a big part in preventing this kind of unwanted behavior. However if a pattern of humping has been established you will also need to retrain your dog.
Click here for the ultimate guide to stopping this embarrassing problem
Other reasons dogs hump and what you can do
Humping is also a dominance behavior. In nature only the dominant dog gets the privilege of breeding with a receptive bitch. While this behavior is most common in full male dogs, dominant intact females and neutered males can behave tis way. One of the best ways to deter inappropriate humping is to distract the dog.
Distraction works best if the dog has been trained to obey various commands such as sit, stay, fetch etc. When using the distraction technique push the dog away from you with a firm "No, Sit" command.
If you are not the object of this display, the best way to stop dogs humping is to call him or lead him away from the object of his desire and give a firm "sit" command.
Make sure the dog is sitting before you reward him with praise or a treat. No sit = no reward. Only reward your dog with your attention or treats when they behave they way you would like them to.
This distraction technique also serves to establish that you are the dominant one in your dogs pack. Once you have established you and other humans are higher in the pecking order than the offending dog you will find that dogs hump less often.
Humping can also be an attention seeking behavior or simply a habit. So how to do you know what is normal behavior? If your dog sometimes humps excitedly or occasional humps or is humped by their doggy friends it's probably only an embarrassment problem for you.
If on the other hand your dog humps almost every visitor to your house and every dog they meet in the park,  your dog may have an anxiety  or dominance problem.
Other dogs will some times respond to being humped with aggression.  So it is a good idea to walk you dog in less crowded places and with familiar friends until you can control your dogs humping.
Humping could be a medical problem
One of the best way to respond to any unwanted humping behavior is the distraction technique above unless the humping action has a medical cause
The humping reaction can be due to an anal sac infection or allergy itch. This will require professional medical diagnosis and treatment. If you have noticed a sudden or significant change in your dogs behavior or you just want to rule out this possibility before resorting to neutering, spaying , consult you local vet.
Training can help with this embarrassing problem
Humping is a normal behavior, particularly if your dog is a full male, while it can be embarrassing for the dog owner, it will happen. It is up to you to decide if neutering is part of the solution to your problem and it is your responsibly to ensure that your dog is healthy and happy.
Training your dog ensures that you are the leader of his family and rewarding good behavior with your attention and praise is the best way to reduce the inappropriate incidences, of this embarrassing behavior
Click here for the ultimate guide to stopping this embarrassing problem